We did it again!!  ARS successfully launched another Padel facility in North America with an incredible Grand Opening at the Ritz Carlton in Key Biscayne!!
adidas padel installed 3 Padel courts in Miami by the hand of All Racquet Sports and Ritz Carlton
Cliff Drysdale and Ritz Carlton Hotels will enjoy the first 3 aluminum Padel Courts in the USA
On February 28 and 29, All Racquet Sports together with Adidas padel developed the opening event for the first 3 aluminum tracks installed in the United States.
The prestigious hotel Ritz Carlton together with the company that manages its tennis activities Cliff Drysdale (recently bought by Troon -one of the largest sports facilities management companies in the world-) starts its path into the world of Padel worldwide.
With no doubt, this is a great advance for the development of sport in America.
Marcos del Pilar (Sales & Promotions Manager ALL RACQUET SPORTS) designed and executed a two-day event plenty of professional player exhibitions, Intro's to Padel for influencers and VIPs, promotional activities and private events for members and the media.
Thanks to these big connections and weeks of really hard work. We could enjoy the Adidas PADEL TEAM USA as well as members of the United States national team in the women's and junior categories during the event.
Additionally, we were honored with the presence of the president of the American Federation USPA (Pilar Grantham) as well as relevant positions from the institutions and the racquet industry in the new continent.
Media reviews have been very relevant and the event has had a huge impact throughout the United States with the consequent benefit for the growth of the sport and its exposure.
On top of the support of Ritz Carlton and Cliff Drysdale, the event had the indispensable help from different brands and sponsors such as Estrella Damm and Lucky in Love.
As a consequence, lots of congratulations concerning the development of the event came up.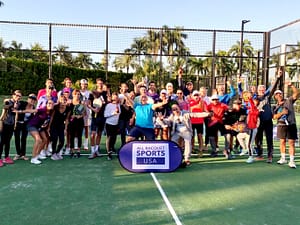 More than 300 people could enjoy the show and excitement of Padel.
The Hotel has now decided to pay maximum attention to Padel business and activities and plans to offer dissemination of this business model to all its managers nationwide.
Watch some TV content here below:
https://wsvn.com/sports/marcos-del-pilar-brings-padel-to-south-florida/
Being asked to detail my experience, here is what I can say:

"Once again it has been an incredible experience. After many months of work, it has been really gratifying to see how this project became to reality.
Not only have we built three of probably best courts in America, but we've also validated the business model for one of the world's largest hotel companies. Feeling the unconditional support of Ritz Carlton, Cliff Drysdale & Troon, Estrella Damm, Lucky in Love, the USPA and other participating actors have been an important injection of energy and confidence. We obviously plan to continue working with all of them hand in hand on the development of Padel in America. Everyone there could see how, once again, we are able to create an incredible product that the American media wants as content for its publications.



All of us are 100% motivated to offer our best version and dramatically increase the number of clubs, coaches, players and investors in the coming months. I only have great words of thanks for the support given to adidas Padel, All Racquet Sports and all the sponsors that make it possible for us to continue advancing in our crusade for trying to open a new market, build a new industry and create opportunities for everyone. "
With this action once again All Racquet Sports and Adidas padel reinforces their difficult commitment to the development of Padel worldwide and especially in the United States. In the coming weeks, we will have new news for future openings of Padel centers.
WE KEEP WORKING !!
See some more content on media here below:
https://hauteliving.com/2020/03/ritz-carlton-key-biscayne-padel-courts/683794/
If you are of those that love to know more about Padel in the USA, you would probably love to read this other post that I wrote about the importance of building your team  HOW TO BE SUCCESFUL IN MARKETING AND PADEL
Please leave me some comments below. I would love to read what you think. and if you liked this post, share with some people that could also enjoy it. It will be very motivating for me to keep on writing to you.
Thanks for your time and LET´S KEEP ON LEARNING TOGETHER!
All the best,
Marcos del Pilar
Marketing strategist | Author & Speaker | Leadership & Coaching Expert
MBA Sales & Marketing| Masters Sports Management| Padel Master