12 eye-openers to implement in your personal life and in business during COVID-19
Interested in having some keys to apply during this COVID-19 quarantine? Let's review some interesting guidelines to make the most of this difficult moment without panicking.
First of all, there are two different areas we should focus on (in this order): your personal life and your business.
We need to do some efforts to keep ourselves mentally though. By being positive, we will be able to take care of us and our beloved ones.
After that, we will be ready to think of our business and try to make some steps in order to take advantage (yes, there are some..) of this uncertain moment.
In every crisis lies opportunity and we will review today some ideas and strategies to turn one of the hardest moments of our life into an opportunity that makes us stronger and wiser for the future.
PERSONAL SIDE: There are at least 6 points to focus on in order to stay healthy and improve our wellness.
BUSINESS PERSPECTIVE: strategies that will help us to be ready for the future and come back stronger than ever.
On the personal side, we now have time for us. we should rest our body and our mind after so many years of non-stop activity. Spend some quality time with your beloved ones, stare at their eyes and listen to them. Tell them how much you love them and let them know how important they are for you.
You can do some exercise, walk, bike and try to meditate (even if you never did it before).
Use your time to keep on improving, and give yourself the chance to start learning those things that always inspired you but you had never time for.
From a business point of view, this is a moment to stop. You should keep in contact with all your customers to enhance the emotional relationship but additionally, you could use this moment to listen to their needs.
As LEAN STARTUP METHODOLOGY explains, we should be open to swinging our business model and proposals depending on what our market and clients say. This is the perfect moment to analyze, open our mind and use all those inputs and our creativity to enhance our products and services.

If you stay humble and adaptive, you will find many opportunities to improve.
Here below you can download a PDF. I really hope it can inspire you:
If you are of those that love to know more about leadership and how to help others to achieve their best version, you would probably love to read this other post that I wrote about the importance of  HOW TO HELP OTHERS SHINE  or HOW TO LEAD OTHERS INTO OPTIMISM in this uncomfortable situation that we all are facing.
At the end of the day, we have a big responsibility to pull spirits up and help others to achieve their best version no matter the circumstances. Once again, we can be the leverage and the mean for others to have a better life and achieve their goals. In their success is also ours.
There is a new era of leadership (MEGA LEADERSHIP, SOLIDARY LEADERSHIP, COLLABORATIVE LEADERSHIP – I will write a post about soon-) where the more you give, the better you become and where the winner is the one that definitely gives more.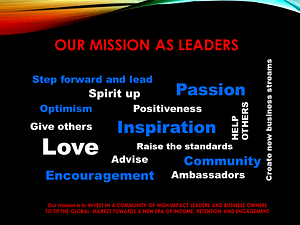 Are you willing to EXPLORE A WORLD PLENTY OF OPPORTUNITIES? PADEL is the new business opportunity in the USA and we are already applying our expertise on helping MANAGERS & BUSINESS OWNERS to increase their income! 
Please leave me some comments below. I would love to read what you think. and if you liked this post, share with some people that could also enjoy it. It will be very motivating for me to keep on writing to you.
Thanks for your time and LET´S KEEP ON LEARNING TOGETHER!
All the best,
Marcos del Pilar
Marketing strategist | Author & Speaker | Leadership & Coaching Expert
MBA Sales & Marketing| Masters Sports Management| Padel Master