I have been thinking about writing this post for more than two months.
KOBE "Black Mamba" BRYAN and" The King" BELA shared the same winning mentality in both Basket and Padel and needed to be addressed.
First of all, I need to say that this is my HONEST TRIBUTE to one of the biggest legends of basketball of all time. I have total admiration for one of the best athletes in history and I've been always inspired by him and his milestones. Rest in peace, "Black Mamba". We all owe you.
At the same time, I want to introduce you all to PADEL GOAT Fernando Belasteguín ("BELA"). By being top #1 in the world for more than 16 years, he is still an example to follow for players, coaches, and everyone connected with the Padel industry.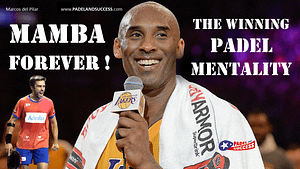 I was very fortunate to spend an incredible time with BELA during an interview with some other leaders some days ago.  While listening to him, I could feel him closer and closer and realized that KOBE and BELA had amazing similarities in their way to face not only competition but for life indeed.
Even when I'm a believer of talents given, I for sure support the growth mindset.

Everything can be coached and trained. Hard-working always pays off and these two world-class athletes are the best proof ever. They won it all, they worked it all.

When you jump into their stories, you can easily realize how many efforts they did, how hard they worked, and how much they both deserved everything they achieved in their careers.

"It doesn't matter how hard you work… I'm willing to work much harder than you"
This simple sentence could group everything I'm going to talk about. Record it on your head and you will have half the battle won.
I'm going to share with you some of their thoughts. These are the statements that made them become the very best in their sports.
FOLLOW YOUR PASSION FIRST: If you find your calling and what you are passionate about, you will no longer have to work in your entire life.
BECOME AN SPONGE. KEEP LEARNING EVERY DAY: The best way to prove your value is to learn, to work, and to absorb in every chance you have. 
WORK HARDER THAN ANYONE ELSE IN THE WORLD: If you train more than others and more often, you will also be much closer to your success. Double your training sessions and you will double your talents and achievements.
BE CONSISTENT: Stay your ground and keep trying even if you fail. Don't give up. Resilience is key.
WIDEN THE GAP: While working harder and being consistent, you will make the separation of your competitors longer and longer as the years go on.  Nobody will be able to take your back.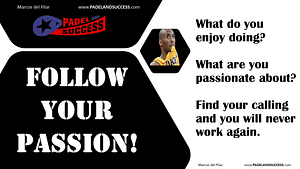 Wouldn't it be nice to have a document (ebook) showing the main mindset strategies they used (and still keep) during their path to the top of the sport worldwide?

I took the time to build this ebook to make all these points easy to remember.
I hope it will be useful for you.

EBOOK MAMBA & BELA: The winning Padel mentality
"It's a matter about what is important to you"

"Just do everything you can to become the best version fo yourself"
BELA has all the values that make him the best example to follow not only in sport but in life.
When listening to him, you instantly realize that additionally to his keys to success in sports he also owns very much strong skills.
I personally highlight and appreciate them even much more than the sporting ones:
I am very moved by his FAMILY VALUES: that intrinsic connection with his loved ones and a continuous tribute to his friends and relatives.
I am captivated by the RECOGNITION TO HIS ORIGIN: that incessant homage to his homeland, his country, and his native Pehuajó in Argentina.
I am motivated by his ABILITY TO SACRIFICE and the positive management of changes.
I am highly stimulated by his LONG-SUFFERING and RESILIENCE, that perseverance and patience are the strength of mind in the face of adverse life situations.
The person is even much bigger than the character. People admire "The King" BELA but for all this, I think that if I have to choose I stay even more with the "The King" FERNANDO.
I hope you guys enjoy this post as much as I did while writing it. We all have so much to get improved that I can't stop rethinking myself and all the business I'm related to. Feel free to comment and let me know your thoughts. I will be super happy to hear and learn from you.
If you like the article, you will love to watch the interview below with my partners with GIVE ME FIVE! (in Spanish, so please use subtitles):
Would you love to read all the posts about INSPIRATION? Click THIS LINK to follow them all.
If you like posts about LEADERSHIP, click THIS LINK to enjoy some of mine. I really hope you like them.
You can also SUBSCRIBE to my LIST HERE. I will do my best to keep you posted about my improvements.
I usually help TENNIS & PADEL Managers and Owners to be successful in their business. Make sure you share this playlist with them if you consider this to be interesting and helpful for their clubs as well.
Whether you are involved in the sports industry or not, you will find it very easy to apply these strategies to lead yourself and your teams.
In addition to all this, are you willing to EXPLORE A WORLD PLENTY OF OPPORTUNITIES?
PADEL is a new business opportunity in the USA. We are already applying our expertise in helping MANAGERS & BUSINESS OWNERS to make more money! 
Please leave me some comments below. I would love to read what you think. and if you liked this post, share with some people that could also enjoy it. It will be very motivating for me to keep on writing to you.
Thanks for your time and LET´S KEEP ON LEARNING TOGETHER!
All the best,
Marcos del Pilar
Marketing strategist | Author & Speaker | Leadership & Coaching Expert
MBA Sales & Marketing| Masters Sports Management| Padel Master