Un homenaje a la historia de Paco. Del niño soñador andaluz a la cima del Pádel mundial.
Esta es la historia de un regalo. Mi personal homenaje a uno de los más grandes que ha dado nuestro deporte. Es, sin duda alguna, un tributo obligado a una de las leyendas españolas destinadas a ocupar un lugar de privilegio en la historia del Pádel a nivel mundial. Un espacio que se ha ganado por derecho. Con trabajo, con ilusión y con paciencia en la búsqueda de un sueño en la que lleva sumergido más de 20 años.
"Érase una vez… un niño prodigio."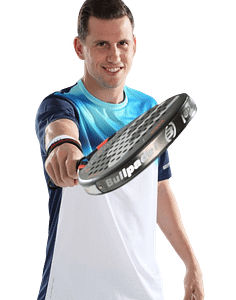 ¡Hola, Paco!
Érase una vez… la historia de un niño prodigio. Aún puedo recordar al pequeño niño que llegó a Madrid hace ya unos cuantos años. Era capaz de ganar partidos prácticamente jugando sólo en la liga por equipos.
Érase una vez… un chaval andaluz que soñaba con todas sus fuerzas conquistar la cima del Pádel mundial.
Las circunstancias y la propia vida misma nos han obligado a desnudarnos a todos. Desde hace un tiempo, hemos tenido que aprender a presentarnos al mundo tal cual somos; en esencia, sin envoltorios, sin artificios.
Y Paquito Navarro tiene su naturaleza, substancia, carácter y entidad propias.



Érase una vez… un gran tipo que cae bien a la gente. ¡La gente te quiere mucho, Paco!
Paquito Navarro es diversión, es autenticidad, es espectáculo, es creatividad y es, en su esencia más pura, la simbiosis de un país entero entre el Pádel y una sonrisa. Es, además, uno de los grandes catalizadores para que un estadio entero ruja emocionado con miles de personas al unísono.
¡Gracias, Paco, por hacer tomar al Pádel una nueva dimensión!
El circuito entero y todos los aficionados te hemos visto crecer.
Vemos día a día, año a año, una versión mejorada de un Paquito que parece no tener techo. Por esto, también…
Érase una vez… una historia de crecimiento y aprendizaje.
Ojalá hubiera una versión de bolsillo de Paquito. Así podríamos llevarte a todas partes.
¡Eres la chispa, la magia y la vitamina de la semana!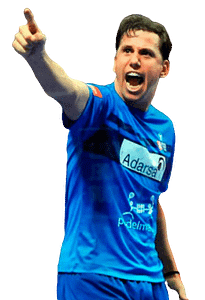 Érase una vez… la historia de la conquista del Pádel mundial.
La historia cuenta cómo ese chico sevillano cumplió su sueño, alcanzó la cima del deporte que amaba y se adueñó del número 1 a nivel mundial colocando ahora a su país, España, y a su ciudad, Sevilla, en el trono al que sólo tienen acceso unos pocos elegidos. Esta conquista, en realidad, sólo acaba de empezar.
Como en tiempos pasados hizo el gran Rodrigo Díaz de Vivar, ahora queremos que nos guíes en la conquista del mundo entero. A todos los efectos, eres "El Cid Campeador del Pádel" y nosotros, millones de amantes del deporte, somos tu ejército ansioso de batallas épicas y momentos memorables.
Ve y compite tranquilo sabiendo que, todos nosotros, estaremos siempre detrás apoyándote en esta cruzada.
Ya para terminar, sólo quiero añadir una cosa más.
Érase una vez… una gran familia absolutamente repleta de amigos y gente que te Methandienone adalah, es Methenolone legal quiere. Porque te los ganas a todos día a día; minuto a minuto.
Érase una vez… Ramiro, Peter, Ale, Javi,…
Érase una vez… Sevilla, Villaviciosa, Almería… Pero sobre todo…
Érase una vez… María Victoria y un apoyo incondicional lleno de experiencias y emociones compartidas.
Ésta es la historia del día después.
Ésta es la historia de un verdadero guerrero. De un luchador incansable en busca de sus sueños.
Érase una vez… PAQUITO NAVARRO COMPÁN.
He querido construir un E-BOOK homenaje con estas palabras sobre Paco. Un documento inspirador con el que poder compartir la pasion y admiración que muchos tenemos por este referente. Espero que os guste. Podéis descargarlo haciendo click aquí abajo:
PAQUITO NAVARRO. Erase una vez… (By Marcos del Pilar)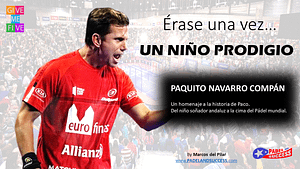 Would you love to read all the posts about INSPIRATION? Click THIS LINK to follow them all.
If you like posts about LEADERSHIP, click THIS LINK to enjoy some of mine. I really hope you like them.
You can also SUBSCRIBE to my LIST HERE. I will do my best to keep you posted about my improvements.
I usually help TENNIS & PADEL Managers and Owners to be successful in their business. Make sure you share this playlist with them if you consider this to be interesting and helpful for their clubs as well.
Whether you are involved in the sports industry or not, you will find it very easy to apply these strategies to lead yourself and your teams.
In addition to all this, are you willing to EXPLORE A WORLD PLENTY OF OPPORTUNITIES?
PADEL is a new business opportunity in the USA. We are already applying our expertise in helping MANAGERS & BUSINESS OWNERS to make more money! 
Please leave me some comments below. I would love to read what you think. and if you liked this post, share with some people that could also enjoy it. It will be very motivating for me to keep on writing to you.
Thanks for your time and LET´S KEEP ON LEARNING TOGETHER!
All the best,
Marcos del Pilar
Marketing strategist | Author & Speaker | Leadership & Coaching Expert
MBA Sales & Marketing| Masters Sports Management| Padel Master