I have been involved in the Racquet Sports industry for over 25 years. This is the summary of what I´ve perceived in the last weeks:

The USTA is leading Tennis recovery by supporting the entire industry as I´ve never seen throughout my career. Both USPTA and PTR follow the lead by providing Managers and coaches assistance and resources to face the new challenging situation after COVID-19
We are living in uncertain moments. During this unprecedented situation, every part of the Racquet Industry has been dramatically affected.
It's said that "If you want to change the world, you need to be your very best in your darkest moments".  What I have lived in the last weeks is the most vivid example of this.
At a time when the Tennis and Racquet Sports Industry has been hit hardest in history, I'm witnessing an event just as historic.
When doing my job to develop new industries in emerging countries I often get questions about directions to grow and take care of a sport.
I have to admit with all the humility that throughout my career I have never seen anything like this. Such a fact of generosity and responsibility to care for and grow the sport of tennis.
The USTA along with the USPTA and the PTR has come to the rescue of all the actors in the Industry with unprecedented aid measures.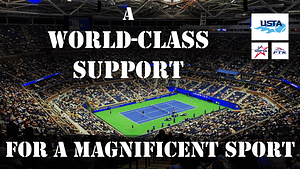 The USTA has activated a complete RECOVERY ASSISTANCE PROGRAM that will help the industry to promptly flourish again.
Firstly, the put together a recovery assistance program for facilities with $5 million dollars allocated. You can get some more detailed info HERE.  
The grants are intended to assist facilities to defray some of the tennis-related costs associated with reopening in 2020. They are not trying to cover lost income, dues, or lost revenue while closed due to the pandemic.
Since every facility would have to cover those cost anyway, in my opinion, induject is a really good help for Managers and owners.
Additionally, they put together a $4 million dollar teaching professional recovery assistance.  You can get detailed info HERE.
These grants will cover the 2021 dues of all certified teaching professionals in good standing with USTA accredited teaching professional organizations who meet the designated requirements. At this time, the USPTA and PTR are the only USTA accredited teaching professional organizations. 
This statement reinforces the support and commitment of the USTA to high-level educational standards and will guarantee the health of the sport in the long term.
The USTA is committed to promoting and developing the growth of tennis with the powerful combination of volunteers, the US Open, and the USTA staff.
They are pivoting from a program-based organization to a service-based one with new technologies, structures, and services designed to boost the entire US tennis ecosystem to help the sport thrive for the millions of existing, and the attraction of new, tennis players.
KUDOS TO Mike Dowse, Kurt Kamperman, Virgil Christian, Craig Morris, Simon Gale, Tim Cass, and their teams for such an amazing and supporting initiative and their outstanding work for years of service for Tennis and Racquet Sports.
On the other hand, for its part, the USPTA with its president John Embree in charge has put in place a lot of measures to help professionals improve themselves during this period. They provided lots of resources to pass through these challenging times:
FACEBOOK SUPPORT GROUP with more than 1300 professionals.
FREE EDUCATIONAL PROGRAMS at www.tennisresources.com
15 webinars and an information portal with useful information (guidelines, regulations, and recommendations)
BEST PRACTICES document to be ready to come back to normal activity.
KUDOS TO all USPTA staff, members, and divisions as well for their actions and commitment to the sport.
I can't be more proud of these teams of people working hard to help others (and the Racquet Sports industry itself) to flourish again. I'm the luckiest for partnering with them, working with them, and learning from them.
As a consequence, from here, I would love to give them the credit and recognition that they all deserve. They are true leaders and they are not only helping companies related to the industry but also people as well. They jumped into action when we all more needed them as leaders they are.
In my personal opinion, we all should give them appreciation, recognition, and credit for every one of their actions.
Therefore, I started the movement here:
THANKS FOR YOUR HELP AND YOUR SUPPORT TO THE RACQUET INDUSTRY!
#RacquetSportsAreBack
Managers, Owners, coaches… Why not thank them on our social media? I will.
Last, but not least, my apologies in advance (and my appreciation and recognition) to all those associations that are also helping the Racquet Sports Industry and have not been mentioned in this article. Please let me know and I will include for sure.
Sustainable industries are born from gratitude and that is why I did not want to miss the opportunity to thank the actions that I have witnessed in recent days. I offer myself to help whatever you may need to keep the wheel moving and to take racquet sports to the top of the sports industry.
I got inspired by them, did you?
Would you love to read all the posts about INSPIRATION? Click THIS LINK to follow them all.
If you like posts about LEADERSHIP, click THIS LINK to enjoy some of mine. I really hope you like them.
You can also SUBSCRIBE to my LIST HERE. I will do my best to keep you posted about my improvements.
I usually help TENNIS & PADEL Managers and Owners to be successful in their business. Make sure you share this playlist with them if you consider this to be interesting and helpful for their clubs as well.
Whether you are involved in the sports industry or not, you will find it very easy to apply these strategies to lead yourself and your teams.
In addition to all this, are you willing Hormona de crecimiento australia, los mejores esteroides para adelgazar to EXPLORE A WORLD PLENTY OF OPPORTUNITIES?
PADEL is a new business opportunity in the USA. We are already applying our expertise in helping MANAGERS & BUSINESS OWNERS to make more money! 
Please leave me some comments below. I would love to read what you think. If you liked this post, share with some people that could also enjoy it. It will be very motivating for me to keep on writing to you.
Thanks for your time and LET´S KEEP ON LEARNING TOGETHER!
All the best,
Marcos del Pilar
Marketing strategist | Author & Speaker | Leadership & Coaching Expert
MBA Sales & Marketing| Masters Sports Management| Padel Master